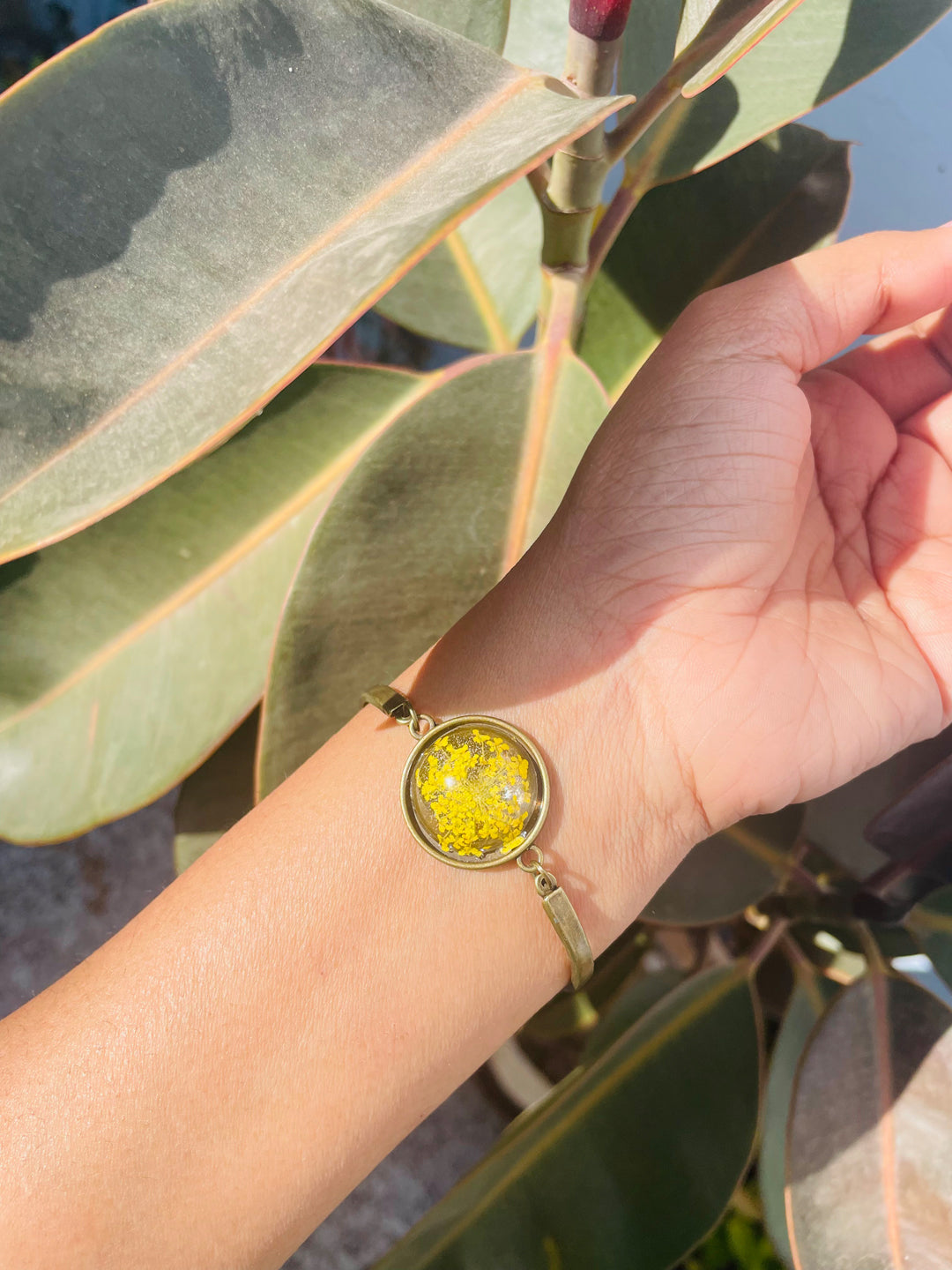 Floral Bracelet - Handmade Resin Art Jewellery
Sale price
₹1,548.00
Regular price
Tax included.
✔️ 7-days return or exchange with 100% money-back guarantee 👍
✔️ Online payment & cash on delivery available.
✔️ Free shipping in 1 - 3 weeks in India. Express shipping in 5 days.
✔️ Shipping worldwide.

Discount will be added automatically at Checkout.
Bracelet with chain
These lightweight Azure oval earrings are a perfect embodiment of infinite beauty and clarity.
Flower - 
Size -
Colour -
Chain - 
---
Product Specifications:
Measurement: Oval shaped earring Height-3cm; Width-1.5cm
Magic Infusion: Preserved Bachelors' button flower
Materials: Resin, Pressed flower
Packaging: Comes in a cotton cloth pouch
These lightweight Azure oval earrings are a perfect embodiment of infinite beauty and clarity. The combination of blue and green colours in a transparent rimless shape gives it a mystical appeal. The small silver addition before the dangler adds a regal touch. This single piece can effortlessly upgrade your entire attire. Excellent statement gifts for the women in your life.
---
Product Care:
Avoid water and harsh weather exposure as it may cause discolouration of the metal alloy. Keep in the cloth pouch in a dry, airy place when not in use.
P.S: Please note that the flowers/ seeds you might receive in your order might not be of the same shape or form like the images as each flower is different and unique. These images are for reference only. 
Floral Bracelet - Handmade Resin Art Jewellery
Sale price
₹1,548.00
Regular price
Let customers speak for us
Washing & Care
Shipping, Returns & Exchange
1. Always dry clean for the first wash. For subsequent washes, if dry cleaning is not possible, gently hand wash in cold water with a mild silk-suitable detergent like Ezee liquid detergent.
2. Always air dry the saree in shade. Never wring the sari or use it in the washing machine or dryer. Never rub the sari vigorously.
3. Iron in medium heat only.
4. Do not store silk saree without dry cleaning. Expose the them periodically to natural atmosphere. Use silica gel sachet or moisture absorbents in your cupboard for storing silk fabrics to give them a longer life.
5. Authentic and natural Indigo hand-block printed sarees leave a bit of colour so always wash them separately from other clothes.
1. Shipping is free within India. Shipping outside India is ₹2,400 - ₹4,000 per saree depending upon the country.
3. Orders in India arrive in 1-3 weeks usually after order is confirmed. However, some times we make your sarees specially for you after you place your order and in those cases, it might take up to 3-6 weeks.
4. Orders outside India are delivered in 2-4 weeks after order is confirmed and online payment is successful.
5. 7-days return or exchange allowed from the day of delivery. For international orders, customers will have to pay the additional shipping costs for return or exchange.
6. Refund will be credited back to your account or can be used as store credit for future orders.