Articles
Maahishmati - The Home of Royal, Timeless & Classy Maheshwari Handloom Sarees
by Rahul Patwa on Jun 03, 2022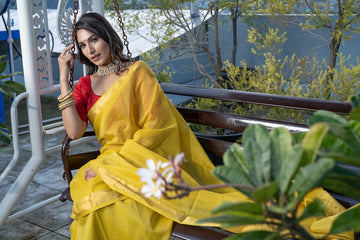 Maahishmati, an ancient glorious kingdom in central India, is believed to be located on the banks of the Narmada River which is now the present – day quaint town of Maheshwar in Madhya Pradesh.
This ancient kingdom has been mentioned in epics such as the Ramayana and the Mahabharata but over time its splendour was lost to the tides of time. The modern Maheshwar is just as majestic with its intricately carved palace overlooking the magnificent Narmada river. Famous for its handcrafted sarees, Maheshwar has been the center of handloom weaving since 5th century and is the home to one of the finest handloom fabric traditions in the world.
The Maheshwari handloom craft rose to immense popularity under the reign of one of the most important female leaders in India's modern history – the great queen and Rajmata Devi Ahilya Bai Holkar. Legend has it that once her highness wanted to gift something rare and exclusive to her royal guests. The most talented weavers from Mandu and Surat were called over and she herself designed the first of its kind saree. These sarees quickly became popular for their fabric's heavenly feel, impeccable weaving, and exquisite designs. Soon, they were being worn by women of the royal family, their guests, and other women of the royal court.
The inspirations behind the design of these sarees can be seen in the local architecture – especially in the Maheshwar fort.  They are weaved with distinctive designs and patterns including the chattai (mat) pattern, along with flowers like Chameli (jasmine), brick and heera (diamond) patterns. They are further enhanced with techniques like Zari, Butti embroidery, block-printing and usually has a distinctive reversible pallu. The Sarees are weaved locally in the handlooms with silk or cotton or a combination of both.
Maahishmati Sarees takes inspiration from this amazingly rich part of Indian heritage, culture and craftsmanship. We are doing our bit to support this craft and the generations of karigars behind it by curating limited collections of these lovely artisan sarees weaved with passion, thread after thread.
Royal, timeless and classy is how we describe these sarees; for the women enchanted with Indian heritage, history, class and craftsmanship.
Support the Karigars, support the handlooms of India – a legacy of craftsmanship passed down from generation to generation.