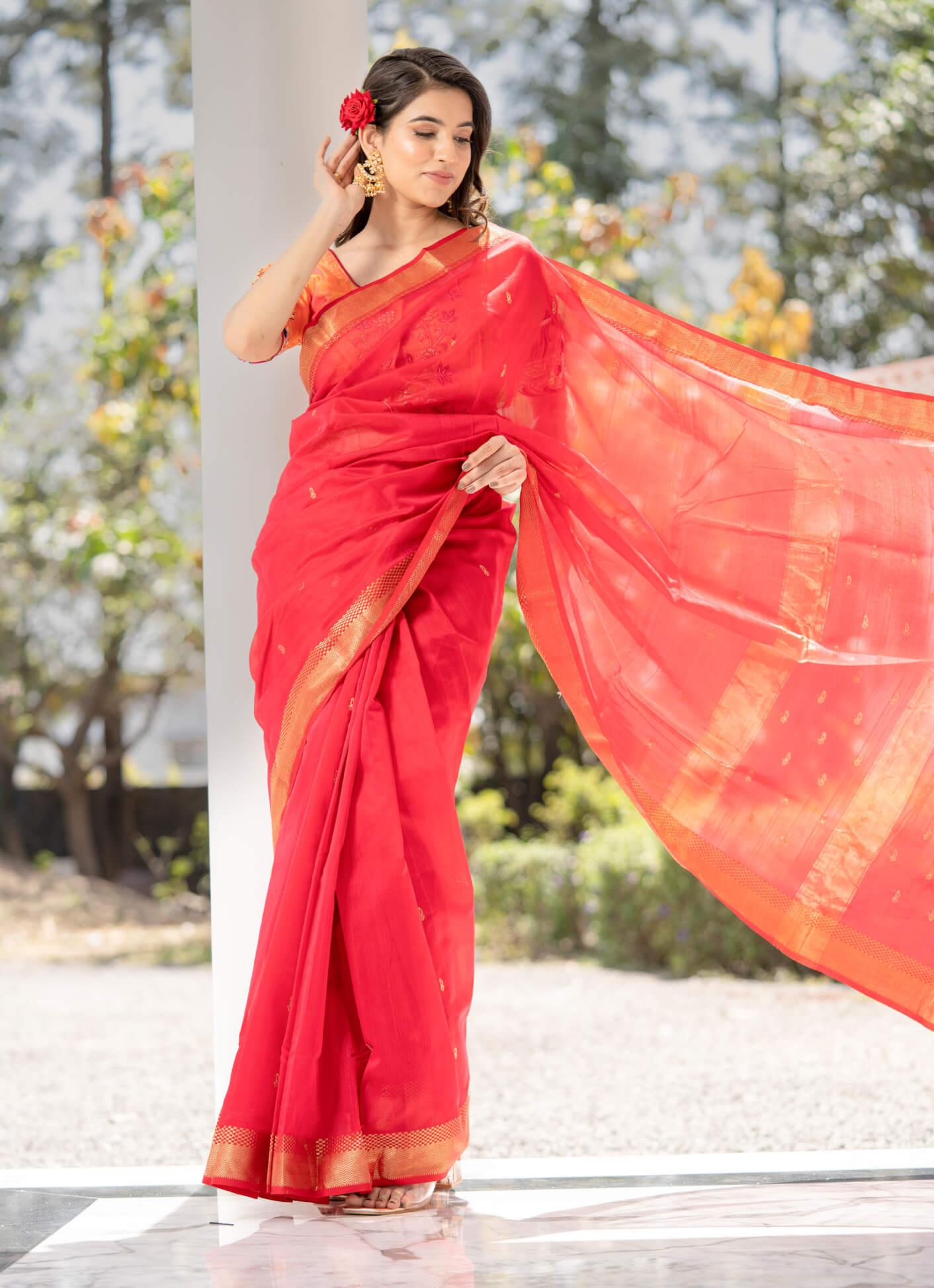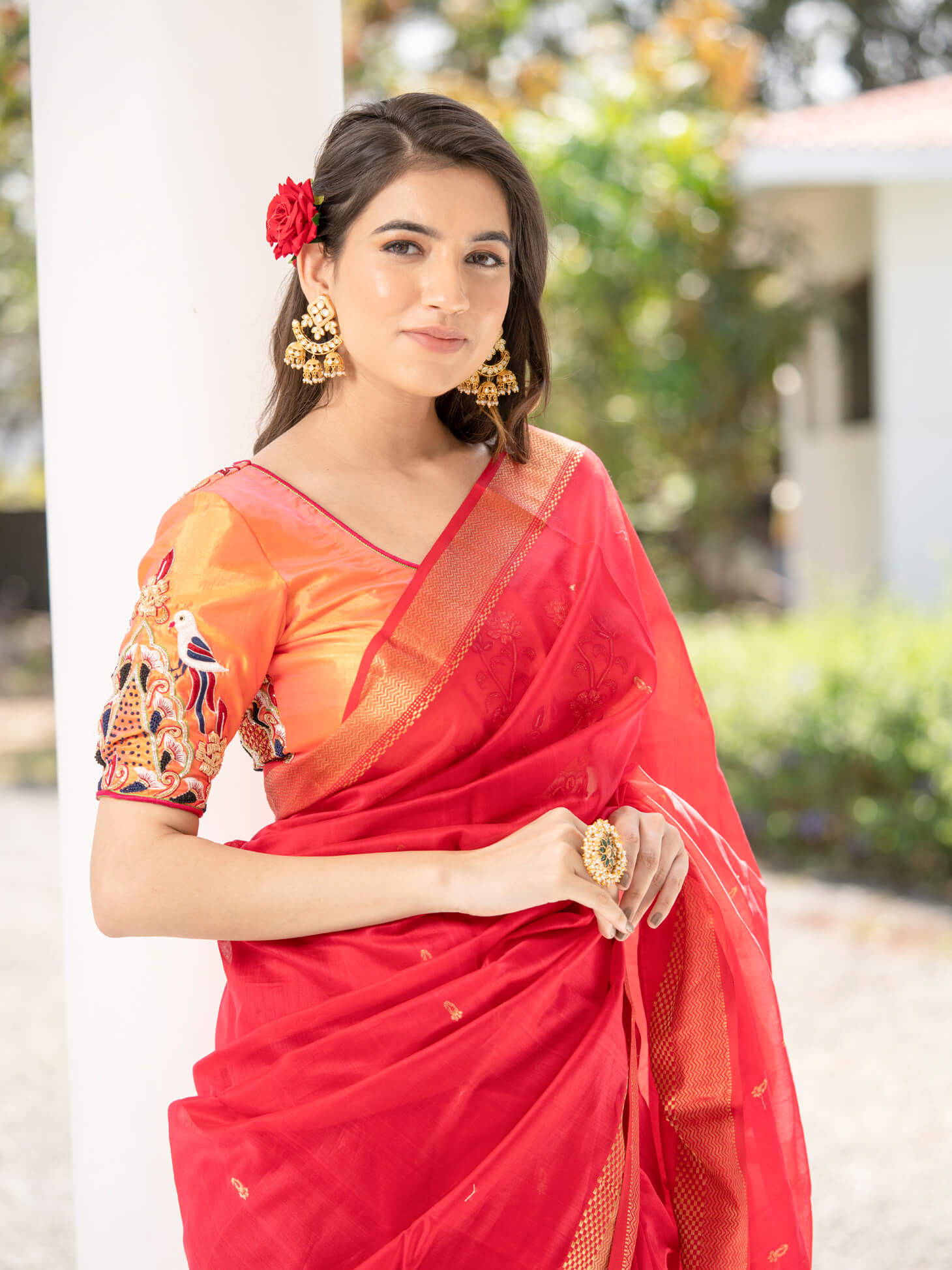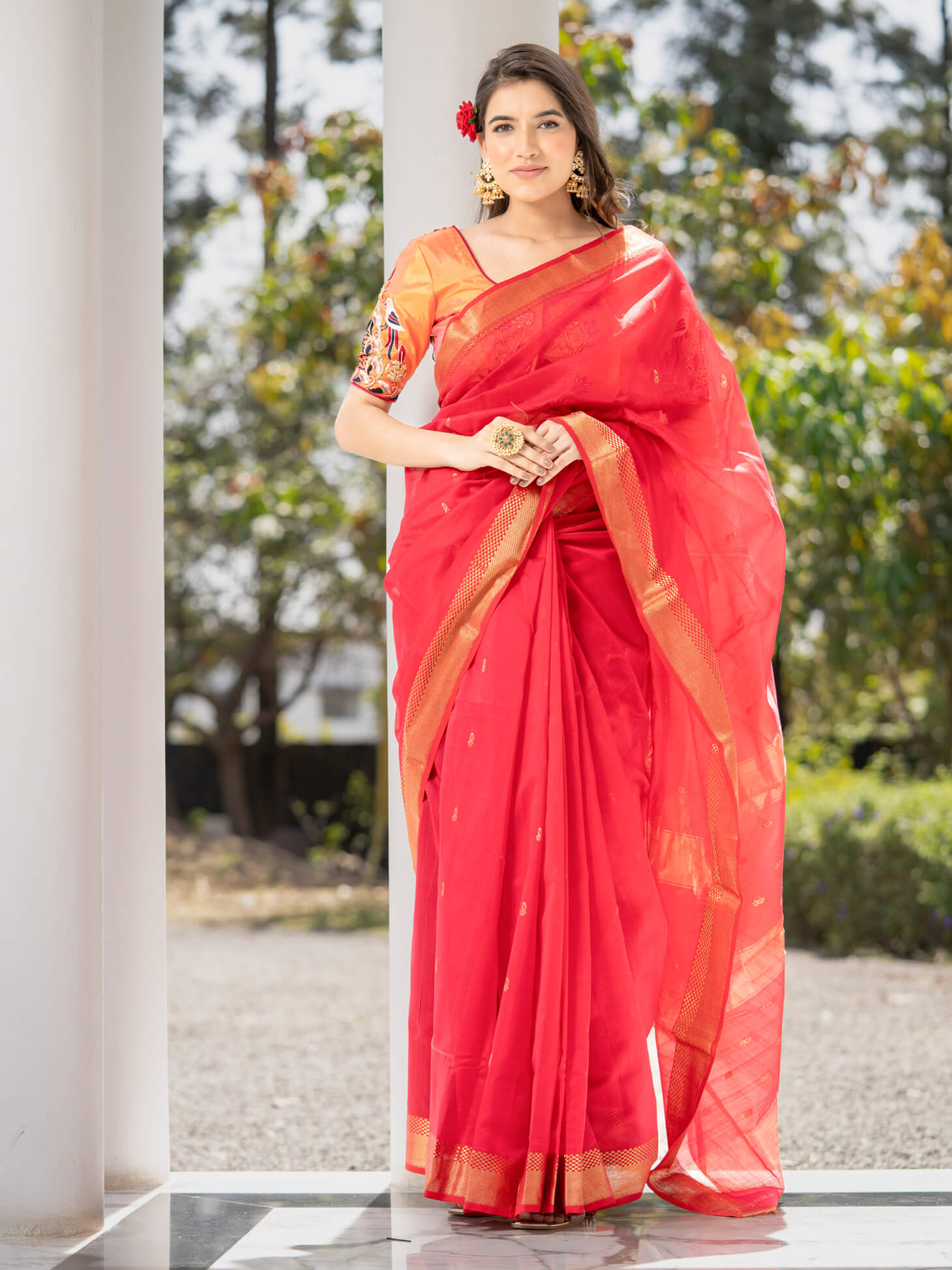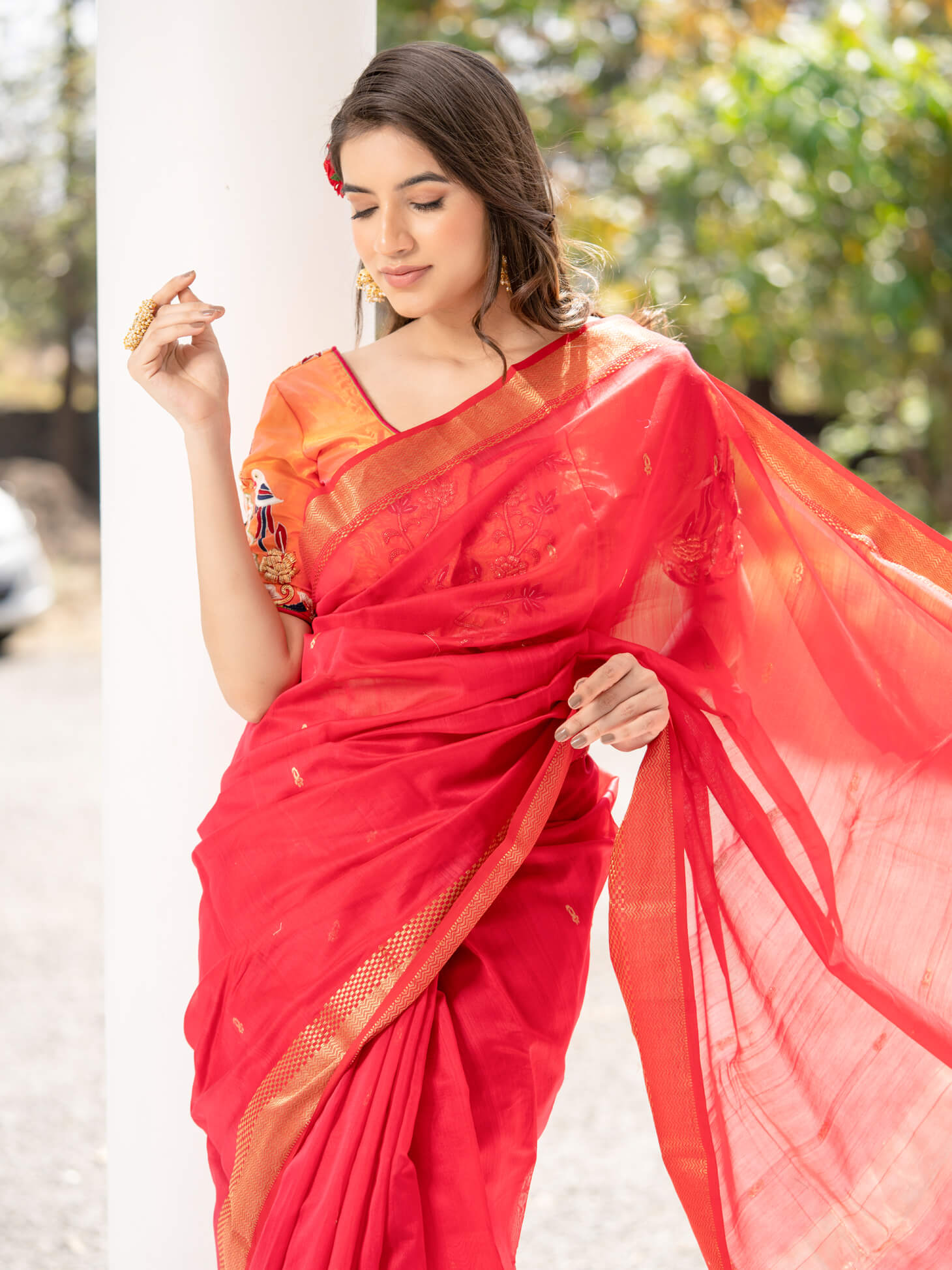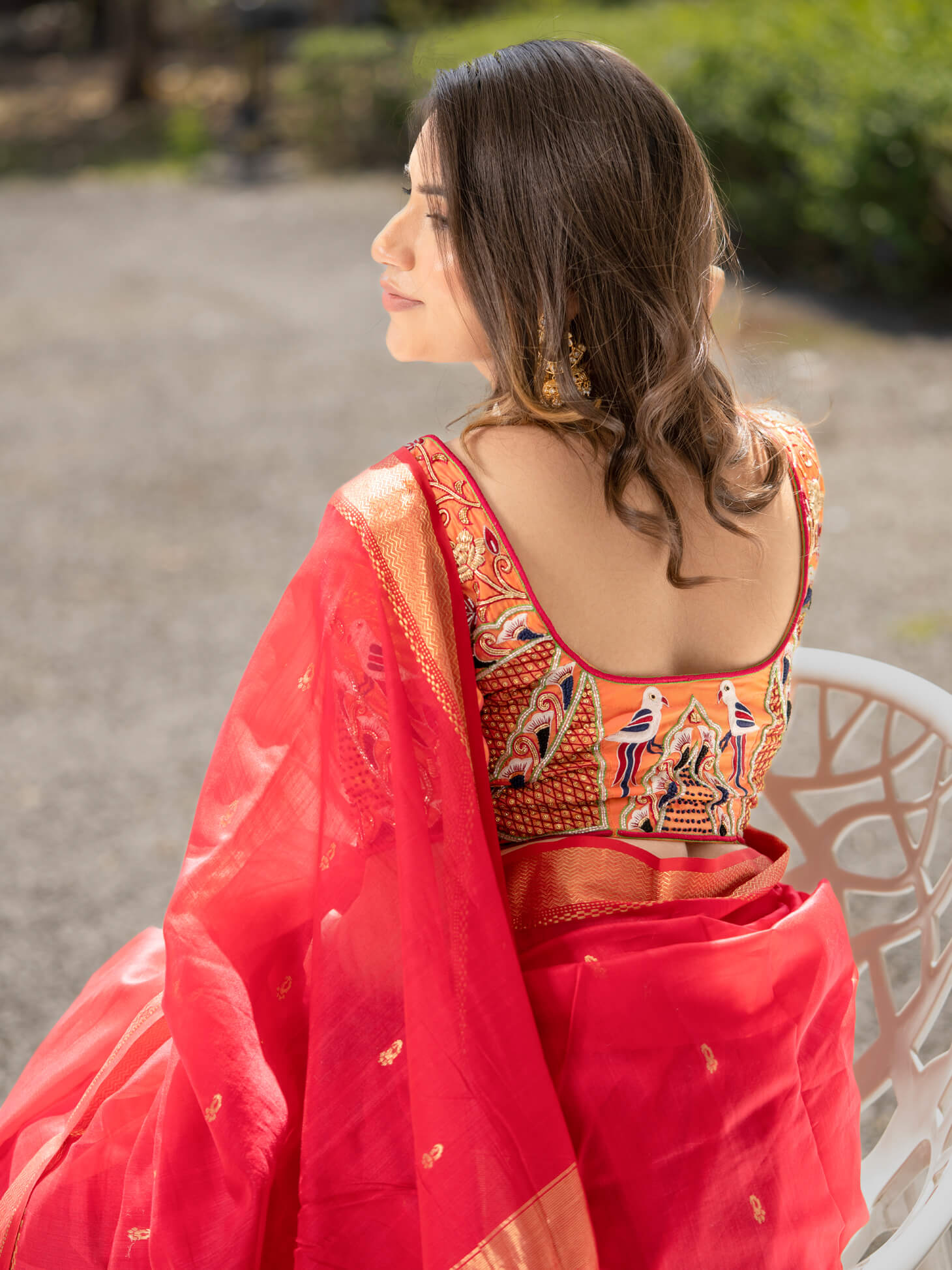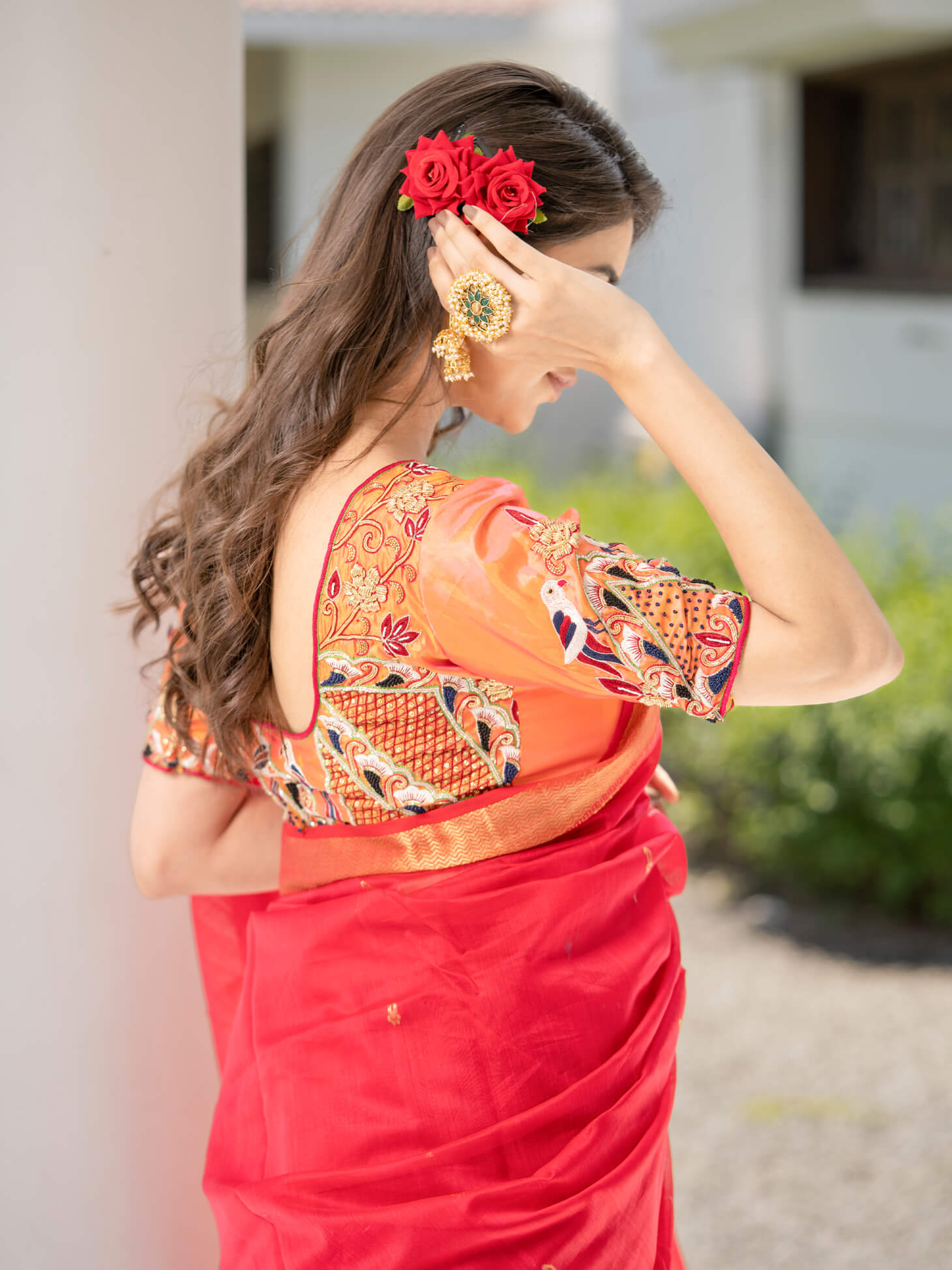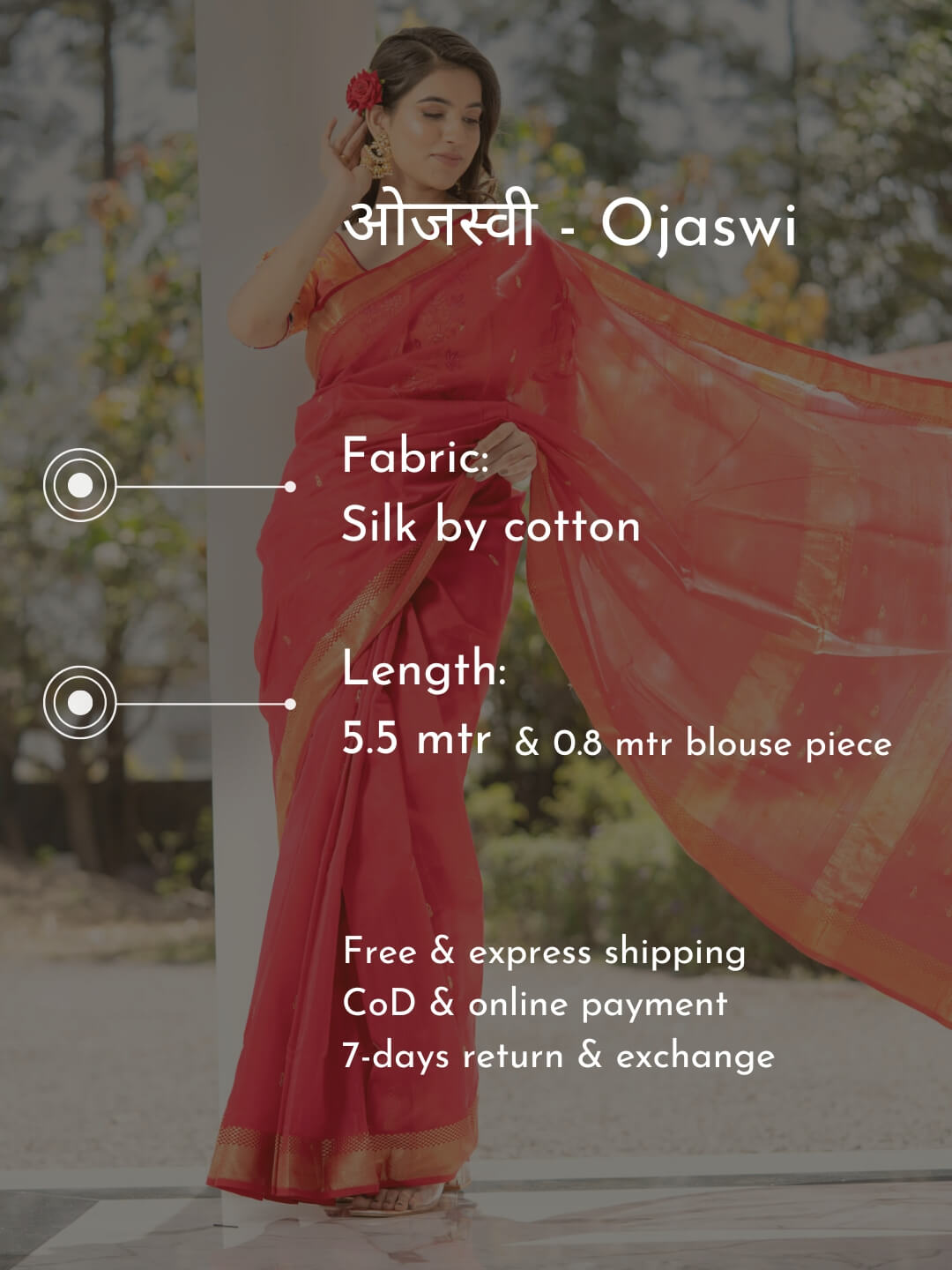 Ojaswi - Maheshwari Handloom Silk Saree
Sale price
₹7,788.00
Regular price
₹9,588.00
Tax included.
✔️ 7-days return or exchange with 100% money-back guarantee 👍
✔️ Online payment & cash on delivery available.
✔️ Free shipping in 1 - 3 weeks in India. Express shipping in 5 days.
✔️ Shipping worldwide.

Discount will be added automatically at Checkout.
x
Good quality sari and timely delivery
x
Lovely sari, very pretty colour. It is exactly as shown in the pictures.
x
Beautiful, rich and elegant looking
x
Love it. The saree is so light weight and elegant. I wore it for my sisters engagement and everyone jus loved it. Thank you for such a elegant sari
'Ojaswi' - Bright, Free, Joyful. She is smart and witty. She likes to enjoy life to the fullest. She is a #WomenOfMaahishmati

The craftsmanship on this Maheshwari silk weave features:
1. cute small golden butis (keri buti design) all over
2. pallu with golden stripes
3. intricate zari work on golden borders
This handloom weave is ideal for wearing to parties, weddings, date-night, festivities or just about anytime you want to drape red Saree that's classy, easy to drape, comfortable to move & even dance in.

Elegant, royal & timeless is how we describe it. Where will you wear this to?
This Saree comes with a running blouse piece. The blouse piece in the pics was used for styling only. It's made and sold separately on custom requests.
Embrace the legacy of the great queen of the Malwa Maratha empire Rajmata Devi Ahilya Bai Holkar (31 May 1725 – 13 August 1795).

Handmade with ❤️ in Maheshwar.
#SupportTheHandlooms #Handmade #Royal #Timeless
#WomenOfMaahishmati – Passionate, hard-working, and driven women enchanted with Indian culture, traditions, heritage and committed to giving back to society in many ways.
Ojaswi - Maheshwari Handloom Silk Saree
Sale price
₹7,788.00
Regular price
₹9,588.00
Let customers speak for us
Washing & Care
Shipping, Returns & Exchange
1. Always dry clean for the first wash. For subsequent washes, if dry cleaning is not possible, gently hand wash in cold water with a mild silk-suitable detergent like Ezee liquid detergent.
2. Always air dry the saree in shade. Never wring the sari or use it in the washing machine or dryer. Never rub the sari vigorously.
3. Iron in medium heat only.
4. Do not store silk saree without dry cleaning. Expose the them periodically to natural atmosphere. Use silica gel sachet or moisture absorbents in your cupboard for storing silk fabrics to give them a longer life.
5. Authentic and natural Indigo hand-block printed sarees leave a bit of colour so always wash them separately from other clothes.
1. Shipping is free within India. Shipping outside India is ₹2,400 - ₹4,000 per saree depending upon the country.
3. Orders in India arrive in 1-3 weeks usually after order is confirmed. However, some times we make your sarees specially for you after you place your order and in those cases, it might take up to 3-6 weeks.
4. Orders outside India are delivered in 2-4 weeks after order is confirmed and online payment is successful.
5. 7-days return or exchange allowed from the day of delivery. For international orders, customers will have to pay the additional shipping costs for return or exchange.
6. Refund will be credited back to your account or can be used as store credit for future orders.