Articles
5 Must See Black Maheshwari Silk Sarees
by Rahul Patwa on Jun 26, 2022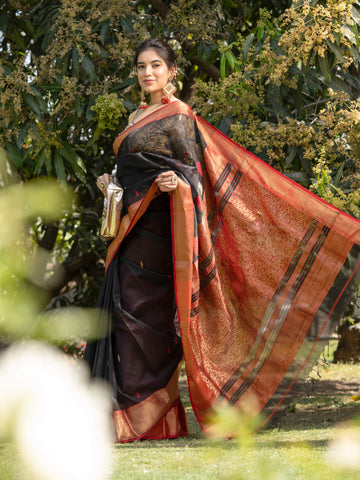 Here is our curated list of 5 passionately designed and weaved Maheshwari Handloom Sarees.
But before we do that, let's make it a bit more fun by playing a small game. Imagine you have 3 different occassions where you need a royal and classy black saree. They are mentioned below and you have to answer which one will you pick for each of the 3 occsassions. Let's go!
Best friends wedding - ??
Diwali Get Together - ??
Gift to your Maa on her birthday - ??
Here are the 5 Sarees:
SHAKTI
A Maheshwari Handloom 2-ply Silk Saree
APRAJITA
A Silk Saree with Damru Buti design and rich pallu with heavy zari work. Quite an interesting weaving of black and gold make this Maheshwari Saree an ideal choice for wearing to weddings, poojas and special occassions.
JANHVI
Royalty and nothing less!
KALI
Do you know which is the finest Silk in the world? It's Mulberry Silk. And that's what this saree is made of! It has a such a soft texture, cute red & black butis, and pallu with meticulous intricate weaving - a work of art in itself!
And lastly, a little surprise for you:
.
.
.
KANGANA
A Saree design as worn by none other than the legendary actress Kangana Ranaut with Rekha ji
Let us know in what order would you rate these Maheshwari Sarees?
Leave your answer in comments or email us at info@maahishmati.com