Articles
11 Must See Rakhi Gifts Ideas - Celebrate the timeless bond of love with your sister by gifting her something timeless!
by Rahul Patwa on Jul 06, 2022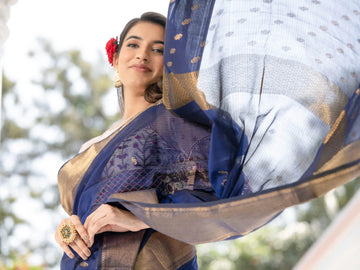 A few bonds are as precious as that you share with your sister. And now you are thinking of what to gift her, the options are plenty, but only a few would be really timeless. Talking about options, here are some that you could consider:
a handmade art piece
a piece of jewellery - come on they all loveeee it!
a  vacation arranged to her favourite place
think what could be as old and as traditional as the festival of Rakhi itself - a handloom saree
And we will make it super easy for you to pick the right one from our 11 hand-picked exclusive collection of Maheshwari Handloom Sarees below.
Wouldn't it be great if you choose such a gift and while doing so support the handloom community of India?
Furthermore, because sarees have always been indispensable and integral to Indian culture, it's another good reason to have them and gift them. They have been a source of inspiration and admiration for fashion lovers all across the world. Quiet a timeless legacy.
So add a beautiful touch of tradition on Raksha Bandhan and also support the weavers and handlooms of our country. Celebrate the everlasting bond with your sisters by gifting hem one of our timeless, classic handloom sarees, which true to their origin, are royal, timeless, classy and will last a lifetime.
#6YardsOfElegance #HandloomLovers #SareeNotSorry
Here they are, so girls ask your brothers which one you want for the Rakhi, and if you are a guy reading this, thank us later, right now ask your sisters which one they want!
As timeless as Rakhi itself!
Actress Kajol wore a similar design on Durga Puja
Celebrate the timeless bond with your sisters :)
Keep it royal, keep it classy
Happy Rakhi
PS - Sarees history dates back to ancient times as its use has been mentioned in the sacred Indian epics like the Ramayana & the Mahabharat.
The history of sarees has been traced back to the ancient civilizations like the Indus Valley civilization which flourished during 2800–1800 BC around the western part of the Indian subcontinent.