Articles
10+ Must Have Chanderi Silk by Cotton Sarees - Timeless White, Classy Black Hand-screen Printed Sarees
by Rahul Patwa on Jan 19, 2023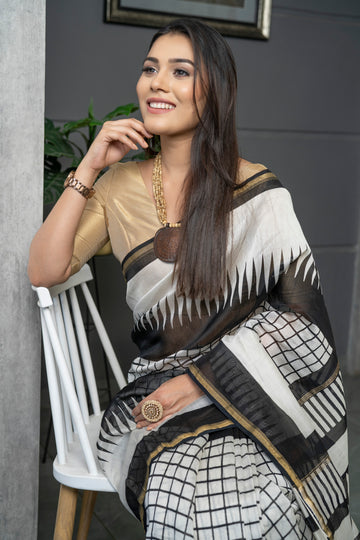 Read on to know more about Maahishmati Sarees collection of white and black Chanderi silk sarees.
Chanderi sarees are a specialty of the town of Chanderi, located in Madhya Pradesh, India. They are known for their light weight and lustrous texture, which is achieved by using a blend of silk, cotton, and zari. The Chanderi sarees are considered to be a symbol of elegance and class and are often adorned with traditional motifs.
One of the most stylish and classic variations of Chanderi sarees is the black and white printed sarees. These sarees are known for their elegant and timeless design, and are versatile enough to be worn for any occasion. The black and white color combination is classic and elegant and is perfect for formal occasions. The sarees are usually made of cotton silk which makes them comfortable to wear and perfect for the Indian weather.
The black and white printed sarees feature traditional motifs such as paisleys, temple borders and floral designs. These motifs are often hand printed, which adds to the charm and uniqueness of the saree. The sarees feature a beautiful Pallu, which is the part of the saree that drapes over the shoulder. The Pallu is usually adorned with intricate designs and patterns that complement the overall design of the saree.
The Chanderi black and white printed sarees are not only beautiful but also have a rich cultural significance. which only adds to their appeal as they are not just a piece of clothing, but a piece of history. The sarees are also known for their durability and can be passed down through generations.
In recent years, the Chanderi black and white printed sarees have become a popular choice among fashion-conscious women. They are perfect for a formal occasion like a wedding, pooja or a corporate event. The sarees are also perfect for a casual day out or a family function. They are easy to drape and can be paired with a variety of blouses and accessories to create different looks.
In conclusion, the Chanderi black and white printed sarees are a perfect blend of elegance, style, and tradition. They are versatile, comfortable, and perfect for any occasion. The sarees are a true representation of the rich textile heritage of India and are an excellent addition to any wardrobe. With their intricate designs and fine craftsmanship, these sarees are sure to be treasured for generations to come.