Articles
Must Know - Handloom Saree Traditions of India
by Rahul Patwa on Jan 19, 2023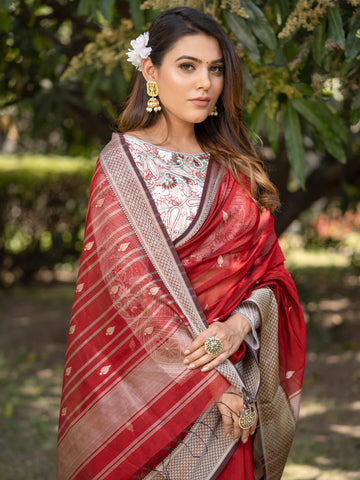 Handloom sarees are a vital aspect of India's rich textile heritage, representing both cultural and economic significance. These sarees are crafted by skilled artisans using traditional techniques passed down through generations. They are known for their intricate designs, fine craftsmanship, and use of natural fibers.
In India, handloom sarees are produced across various regions, each with their distinct styles and techniques. One of the most popular types of handloom sarees is the Banarasi saree, made in the city of Varanasi, located in the northern state of Uttar Pradesh. Banarasi sarees are known for their luxurious silk fabric, which is often embellished with intricate zari (gold thread) work. They are popular for formal occasions such as weddings and religious ceremonies.
Another popular type of handloom saree is the Kanjeevaram saree, made in the southern state of Tamil Nadu. These sarees are known for their silk fabric and gold zari work, and are often brightly colored, making them perfect for festive occasions. In the eastern part of India, handloom sarees like the Tant sarees and the Baluchari sarees are quite famous. Tant sarees are known for their light weight and bright colors, while Baluchari sarees are known for their intricate designs and motifs, depicting scenes from Hindu mythology.
Maheshwari handloom sarees are also known for their intricate designs and fine craftsmanship. They are made in the town of Maheshwar, located in Madhya Pradesh, India and have been popular since the 18th century. They are made from a blend of silk and cotton, making them lightweight and comfortable to wear. Maa Ahilya bai designed the 1st set of Maheshwari handloom sarees as surprise gifts for royal guests and soon they became immensely popular. They are available in a variety of colors, patterns, and designs, making them versatile enough to be worn for any occasion.
Chanderi handloom sarees are a specialty of the town of Chanderi, located in Madhya Pradesh, India. These sarees are known for their light weight and lustrous texture, which is achieved by using a blend of silk, cotton and zari. They are often adorned with traditional motifs and are considered to be a symbol of elegance and class.
The handloom saree industry in India is an important source of employment, particularly for rural and marginalized communities. However, it is also facing various challenges, such as competition from mass-produced sarees and a lack of access to markets and technology. The government of India has taken several initiatives to promote handloom sarees, including the launch of the National Handloom Development Programme, which aims to provide financial assistance and training to handloom weavers. Additionally, several non-profit organizations work to preserve and promote traditional handloom techniques, as well as providing fair wages and working conditions for weavers.
In recent years, the handloom saree industry has seen a renewed interest among consumers, particularly among the young and urban population. This can be attributed to the growing awareness of the cultural and economic significance of handloom sarees, as well as the increasing emphasis on sustainable and ethically produced products.
In the technical side, the use of technology can play a crucial role in the promotion and preservation of handloom sarees. The integration of digital platforms and e-commerce websites allows for greater access to markets for handloom producers, and can also aid in the documentation and preservation of traditional techniques. Additionally, the use of advanced textile technology can enhance the quality and durability of handloom sarees, making them more competitive in the global market.
In conclusion, handloom sarees are an integral part of India's rich textile heritage, representing both cultural and economic significance.
Maahishmati sarees aims to curate and bring to you a hand picked collection of some of the most exclusive and elegant handloom sarees which are royal, timeless and classy because you deserve nothing less.